CRESTED BUTTE
             Andy Sovick
Andy is the founder and owner of Off-Piste Ski Atlas. A self-professed map-geek, Andy has been skiing Colorado's backcountry his entire life. Raised on cross-country skis pulled from a dumpster in Fort Collins, he started his ski career following his parent's tracks along Cameron Pass. Having perfected the classic wobbly telemark turn, and subsequent telemark face-plant, he moved to Durango, where he graduated from Fort Lewis College in Durango. He now resides with his wife and son in Gunnison, Colorado. From woodworking to book writing, Andy is a craftsman to the core. He believes that sharing relevant information and photos about skiing the backcountry will help travelers spread out, get inspired to explore, and most importantly, make better and safer decisions.
He shamefully (but happily) admits he finally traded in his telemark gear for proper alpine touring gear.  
---
SNOQUALMIE PASS and BAKER
      Matt Schonwald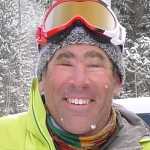 Matt is the founder of BC Adventure Guides, a certified Ski-Mountaineering Guide with the American Mountain Guides Association and a certified Avalanche Instructor with the American Avalanche Association dedicated to perfecting his craft. He began skiing as disco was dying at New York's Hunter Mountain, 'The Snow Making Capital of the World' and a summer ski trip to Mt Hood inspired him years later to move from New York City to Washington State for college and he never looked back. Matt let his curiosity for steep, wild snow combine with his passion for travel, and big mountains into guiding, leading trips to Antarctica, Europe, Asia, North & South America.
In an effort to help preserve wild places, Matt completed his MBA in sustainable business from BGI and started his own company, Back Country Adventure Guides. Matt now shares his passion for snow with his daughter between completing his 'honey do list' and enjoying the greatest touring on Earth at Snoqualmie Pass.
---
SILVERTON
            Josh Kling
Josh is the owner and lead guide for Kling Mountain Guides. He is a mountain guide and outdoor educator based in Durango, Colorado. Josh guides all types of rock and alpine climbing as well as trekking. He also guides backcountry skiing, ski mountaineering, and instructs AIARE avalanche courses. His climbing and trekking have taken him around the globe. He is an adjunct faculty member with San Juan College where he instructs numerous courses for their Outdoor Leadership degree track as well as instructs courses at Fort Lewis College for the Outdoor Pursuits program.  Josh has taught for numerous other nationally recognized organizations as well worked as a guide on Denali. He has completed rock, alpine and ski guide training from the American Mountain Guides Association and is an Aspirant Mountain Guide. He helps coordinate the Flight For Life Avalanche Deployment team in the San Juans, and is a Technical Team Member, Training Instructor, and Winter Response Team Coordinator with La Plata County Search and Rescue in Colorado.
Josh worked as a consultant for the Silverton Atlas. He put in a huge amount of time making sure Andy didn't get anything wrong. How he fits it all in to his life is as much of a mystery as how all those bumper stickers got on his Subaru Legacy way back in college.
---
UPHILL SKIING + LIGHT TOURS, COLORADO
Lou Dawson
Dawson is a widely published author and professional blogger who specializes in writing about backcountry skiing and ski mountaineering. He wrote his first of many books over 30 years ago. Lou is well known as the first man to ski down all 54 of Colorado's 14,000 foot peaks; a feat that went attempted, but not repeated for 16 years. He still does a prodigious amount of ski mountaineering and backcountry skiing, but he does not consider himself an extreme skier. He climbs and skis the high peaks for the joy of exploration, spiritual awe, athletic challenge, and fellowship with family and friends.
---
Want to write a book for your area?
If you're interested in joining our team of top-notch authors, feel free to contact us. Andy has created a full set of publishing tools for an author to get his/her information into a great book with relative ease and efficiency.